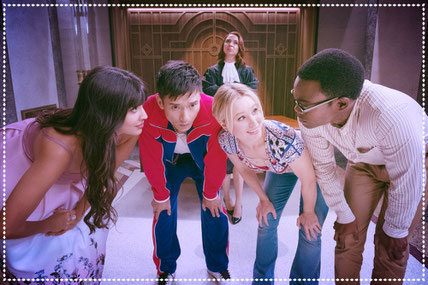 I recently decided to rewatch The Good Place, which was a very good call. I love this show--it's funny and strange and comforting, and I'm all about all of that. If you're unfamiliar, it follows a woman named Eleanor who has died and gone to Heaven--except she was a "bad" person and doesn't actually belong there.
SPOILER ALERT!
Well, this show takes many twists and turns, so I guess I'll only be spoiling one thing. When Eleanor finally confesses that she doesn't belong, the "good" Eleanor who accidentally got sent to Hell returns, and she describes what her everyday life was like in the Bad Place:
"Every day was basically one endless baby shower for a woman I didn't know, but also, somehow I had to organize it, and if I didn't remember everyone's name, I got a very strong electrical shock." She then adds that jazz music was always playing.
This got me thinking about what my personal Hell would be. Going along with the lighthearted theme of The Good Place, it wouldn't actually be the most horrific thing I could imagine, but instead consist of annoyances and anxieties that never seem to end when you're in them.
My personal, yet comedic Hell definitely takes place in a doctor's office waiting room. I have to pee, but I don't want to get up in case I'm next. To my left, a heavy-breathing man is loudly chewing gum, and I can smell it. Sixpence None the Richer's "Kiss Me" is playing over the speakers on a loop, and a screaming child whose Mom decides to just stare at her phone is running around, knocking things over.
Please, tell me yours! I would like a good laugh. And if you're so inclined, think about how you could use this setting as inspiration for a story, poem, song, or whatever! I imagine this prompt could start some interesting projects.